We still keep getting messages on "Harstine Community" (Facebook), and Nextdoor about cougar sightings, and they are pretty close by (just south of us). I keep reading descriptions of cougars killing deer on the beach. It's nerve-wracking, but there have been ZERO photos of said cougar(s), much like can anybody point to photos of Big Foot or UFOs (that aren't fuzzy)?
Partly because of this, and also because it's August which means Wylie is a nutcase, being gone 23/7, we locked both cats inside for a couple of days and nights to hopefully force Wylie to "settle." She eventually did, but boy did she make us pay. She became my appendage, draping herself over my arms and insisting on snoozing there while I was perusing my laptop, making my arm completely numb. Or, she'd hang out on John's neck. And then, she got into vomit mode, which is a rarity for her. I mean, really? Ugh. We finally re-opened the window (and the pet door) and Wylie has been sticking close, which is good, and which was the hope. Yes, the reports of the cougars bother me, but we've all got to go on with our lives, right?
The other messages I've been seeing on "Harstine Community" and Nextdoor are about "Pigs In The Road." There are apparently a lot of pigs on the island, because I've been seeing these posts for years. Pigs! WTF? Is this the Ozarks or something? (No, I've never seen a pig in the road!)
Update: Ha! Here's a pig pic I purloined from Nextdoor: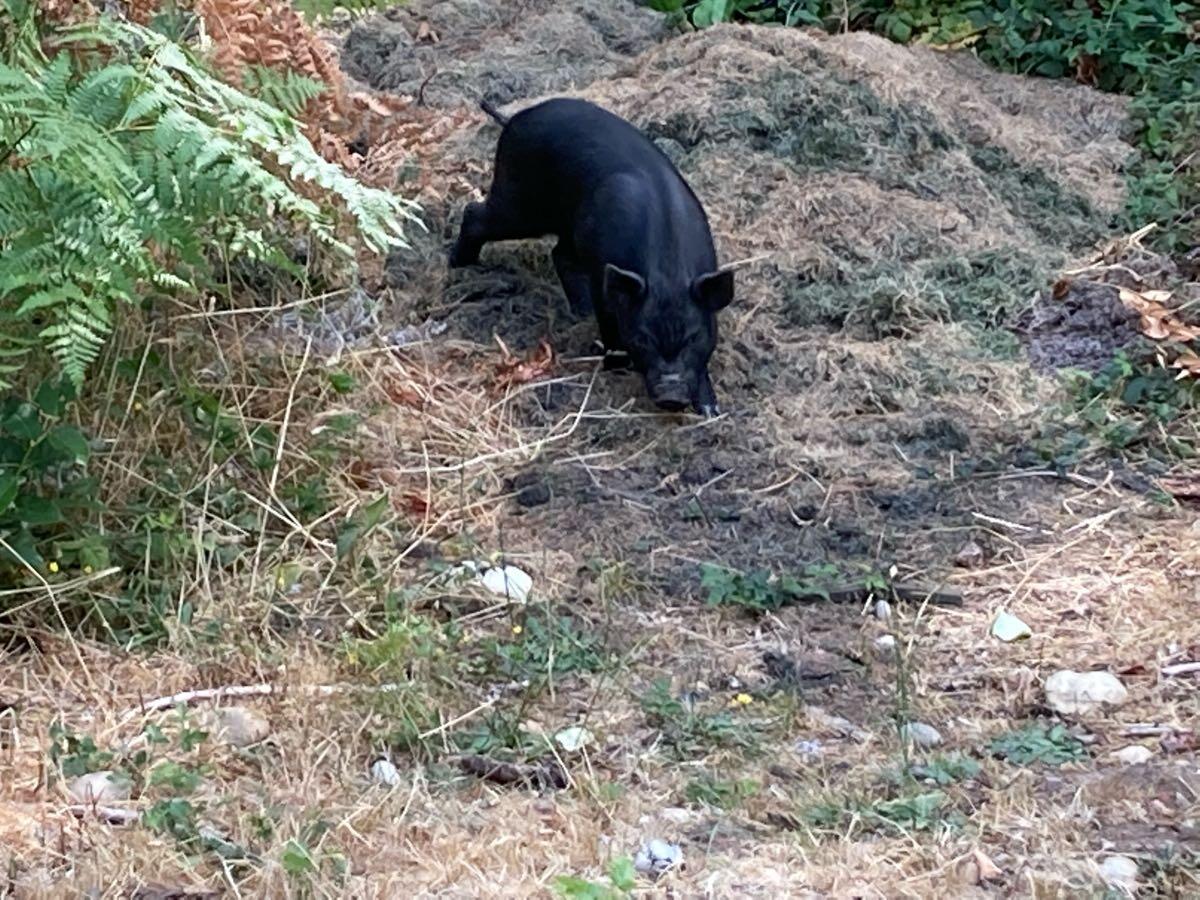 And then there was our Butcher Box delivery this week. About 10pm one night, Alexa informed us that "Motion detected in driveway." I punched my phone and could see (in the dark) that a vehicle had parked and a figure was hauling a large-ish square box. A bit later, after John had hauled in the Butcher Box (which I was frustrated with how late it had been delivered), I got a text message from our neighbor saying that he found the box in the MIDDLE OF THE ROAD up by the gate, about a 1/2 mile from our house (so he was the "figure in the driveway.") In fact, opening the gate scooted the box into the shoulder of the road. It was delivered IN THE MIDDLE OF THE ROAD. (The gate code was printed on the address label!) Oh man, was I pissed. I was very thankful that our neighbor had discovered it, and also that the meat was OK (it was on dry ice that was still active, so everything was well-frozen). But JEEZE! I let Butcher Box know that I was not a happy camper about that. We have been having a whole lot of issues with deliveries lately via UPS and FedEx (Lazy! Won't even drive down the driveway to deposit them at the top of our stairs. I genuinely appreciate it when delivery drivers actually deliver to the door, but I understand if they just dump them at the top of the stairs because the stairs are steep and a heavy load is dangerous. But at the top of the driveway? OR IN THE MIDDLE OF THE ROAD A HALF-MILE AWAY?!
---
Weirdly, all ten of my fingernails are LONG. This has never happened before, ever. They have always been crap nails, and so for about 20 years I had acrylics, until we moved here in 2015. I gave up the acrylics because I didn't want to have to be obligated to drive 30 miles to have them filled every couple of weeks, plus I didn't want to deal with the constant expense of that. They looked BAD for a long, long time. And now, suddenly, they are long, and I actually have to continually file them down so that they aren't hampering pulling up my pants, cooking, or especially typing. Even still, they make typing challenging. I'm flummoxed. Always, I had godawful encroaching cuticles, wimpy nails that split if I looked at them, plus I bit them down to nubbins. I have since I was a child! So this is weird. I obviously haven't been biting them.
Get a load of that gnarly pointer finger. I suspect that is arthritis? It doesn't hurt, though. It just looks…gnarly.
---
I've received a couple of videos of Nate and Quinn watching TV together and Quinn can't keep his hands off his daddy. It's so…poignant! Even in this still pic, they've gotta be touching:
---
"What Donald Trump offered was the freedom to be your worst self. And it turns out many Americans have been waiting for the opportunity." – Sherrilyn Ifill