All of these days without ice. Two major icemaker parts replaced (over $100, which wouldn't have been terrible if either of them had fixed the problem). John, who is the king of troubleshooting and repair, was flummoxed, and we even discussed the possibility (semi-jokingly) of getting a whole new fridge (Frigidaire sucks; my eyes were on a Bosch model that would go perfectly with our Bosch oven…that replaced the sucky never-working Frigidaire oven). I kept mentioning little details I'd noticed; at the same time the icemaker stopped making ice, there was an unusual noise coming from the fridge that hadn't been there before. "Oh, that's just the fan." (OK. But why did it sound different?) Also, I said, "The freezer temperature keeps changing on the display. It's always been 0°, but it's been bouncing around 12°." (I couldn't see any correlation, but the timing bugged me). The only other thing that John could figure was a problem was the condenser at the back of the refrigerator. Maybe it was frozen up? So that involved pulling out the fridge again to access the back and while he was doing that this morning, I went and got dressed.
When I came back out, the fridge was back in place and John had a "swallowed the canary" look on his face.
The condenser fan (the very fan that I noticed had been making a weird sound) had a dead mouse wedged into it, keeping the fan from spinning. And that fan was vital because it removed "warm" air from the condenser coils, thereby keeping those coils too warm for the icemaker to be triggered into dumping the ice (not cold enough).
He removed the dead ("petrified") mouse, and we now have ice. Halleluiah!
Thanks, Nikki.
---
This was pretty funny, too. We are in the market for new living room furniture (sofa, possibly  love seat and/or recliner chair). We haven't been to any furniture stores, but I've been looking online to try to get an idea of what we want. I knew that I required CUP HOLDERS! And of course John required a sofa that had reclining sections. I kept seeing all of these behemoths that curved around and just didn't seem right. Did we want leather again? I love the idea of leather, but frankly it's too soft for my liking. I wanted something firmer. But anything I saw in fabric didn't jazz me one bit. I knew we needed to go look and try out in person, but I was already feeling frustrated that there might not be anything out there that fit the bill.
THEN. When we went to Nate and Sandra's place to take care of Quinn, I walked inside and immediately noticed they had a new sofa and loveseat. AND IT WAS EXACTLY WHAT I WAS LOOKING FOR!!!
Here's the loveseat: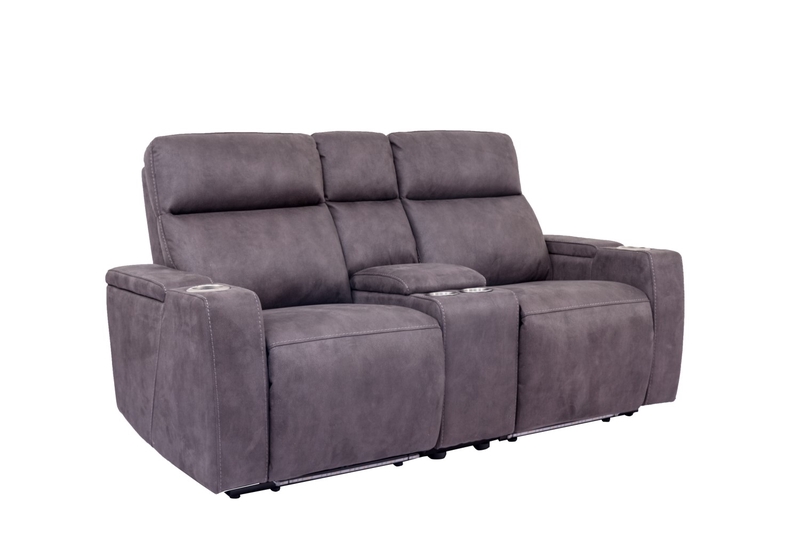 Cupholders on each arm, plus two cupholders in the center. And that "console" in the center opens up for storage of remotes, etc. There is also USB ports for charging phones! And both sides recline! You can also customize how it reclines with adjustments to the top for a more upright, head-supported recline with just the legs out.
Here is the sofa: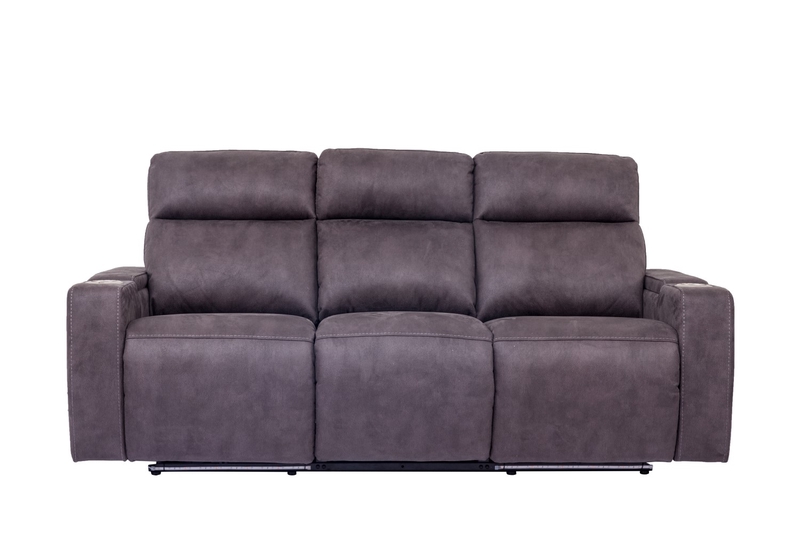 The two end seats recline, and there are CUP HOLDERS on each arm! If it's not leather, it certainly has a leather feel, although it's way more firm and supporting than our leather sofa (that you sink down into). I immediately fell in love! It is exactly what I want, and John really liked them, too. The only issue is that they are electric. The recliners are powered, plus the USB ports, and there is even lighting. And what that means are cords. Our living room requires our sofa to be out from the wall (with a passageway behind it), and so there would be cords showing. And tripped over. Nate said that you can get some sort of battery pack, but it would need to be charged a couple of times a week. Hmm.
I suppose it would be weird that we would have the same furniture as the kids? But it also tells me that Nate and I (because he was the one who discovered these) have very similar tastes.
---
We also now have security cameras, and it's rather amusing, too. "Motion detected at deck." (Birds at the feeder. Or a cat. Or me watering deck flowers). "Motion detected at driveway." (Which is rather helpful when it's an Amazon delivery). "Motion detected at entry." It's all hooked up through our Alexa, and we can immediately see either a video or live on our Alexa Show or our phones! Pretty cool! John had gotten them for "us" for Christmas and finally installed them and set them up. I read on our Harstine "Nextdoor" about numerous burglaries, and even though we haven't had issues in our 'hood, we just thought it might be a good idea to have them.  
---
Tomorrow, the House Select Committee for investigating what actually happened at the January 6th insurrection begins. Ought to be veddy interesting.
"Ignorance does not make you fireproof when the world is burning." ― Nelou Keramati