I've got both glass kilns cooking at once and I'll probably head back into the studio shortly to prepare some more goodies for upcoming "cooking." I'm pretty excited about the item that's currently in the Beast Kiln. I found a mold (new on the market, I believe) for bookends, something I've been searching for months. There used to be a wrought iron bookend frame that I coveted, but it's not manufactured anymore. It looked like this: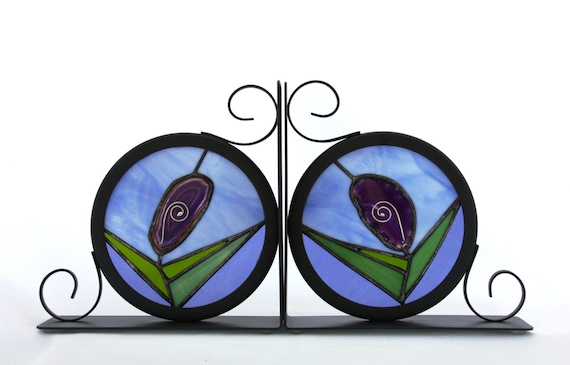 I'm sooooo disappointed I can't find these frames anymore! They'd be so much fun for either stained glass or fused glass. Anyway, the mold I found is for casting glass and the only picture I could find of the end result was this:
I only bought one mold so I have to make one at a time (unless I fall in love with the outcome and decide to spring for the 2nd one). And it takes a LOT of glass! 3 lbs. worth of scrap! (And of course my palette is in blues and greens!) I hope I like it.
Update: Total bust. Literally. The glass cracked and stuck to the mold, completely ruining it. Yes, I've sent a nastygram to the company where I purchased it.
What a waste of money and GLASS.
Have I mentioned lately how frustrated I am with things not WORKING? Like my OVEN!!!! Grrrrr!
---
We've been busy doing this and that. We took the long way to the grocery store last Saturday and drove the curvy highway along Hood Canal. It was so pretty! Lots and lots of houses and cabins along that road, all very close to one another. (It made us appreciate our quiet, spacious acre on Harstine with a NON-busy road to get here!) But, Hood Canal is gorgeous. And I understand the shrimp harvest from there is amazing.
And, John finished my vanity in the walk-in closet! I've been using it and I love it! I picked up a very nifty "carrousel" for all of my earrings I finally unearthed. I also tossed a bunch, but the keepers are plentiful and it's fun to have easily accessible choices!
We watched this movie the other night, and it was very well done (which I suspected from all of the positive critical reviews), but the ending was quite jarring. It was more of a "head game" type of sci-fi movie (with astounding CGI) rather than explosions, which I appreciated. Pretty mind-blowing.
Speaking of sci-fi, I'm currently reading The Martian (recommended by Margaret) and it's goooooood. It's coming out as a movie this fall with Matt Damon. MacGyver on Mars!
While we were eating steamer clams Sunday evening on the deck, we enjoyed this view of the moon and Venus (click to embiggen)!
The night before, we saw THIS:
It's been such an amazing summer.