It's been ages. In fact, when I ventured into the "glass studio" today (AKA Nate's old bedroom), it felt unfamiliar! John had gotten me a really nice Epson electronic label-maker for my birthday and I spent some time making labels for some of my storage containers for various glass supplies. Very cool! I still have more to do, but I made a good start. It'll be so nice to see at a glance what's in what! Starting to think in terms of organization for my "real" glass studio at Harstine. Things really need to be organized or else I flounder—and it doesn't take long for everything to get out of control. I am *not* the queen of organization, so I have to really work at it.
I was in the mood to make something, but I wasn't sure what. I decided to make some more of these in different colors and styles to place on my Artfire site:
I've got one in the kiln now on the first firing (to fuse) and then tomorrow I'll slump it in this great mold that I really love. This is the first weekend at home in quite a while that I've had the time (plus gumption) to "play." I have two to do – the one in the kiln is aqua transparent glass with an art glass on top. The other one will be purple!
~~~~~
John is working at his job at Da Airplane Company this weekend and actually coming home afterward to NAP. It's definitely helped with his sweet demeanor to get some REST. He still has his "beard," though. I have a hunch it'll be short-lived. Friday was a bit of a bust for him roofing-wise, because the PUD finally came out and made the electrical connection to the transformer. Which means: TA DA! We now have power to the house! That's quite a milestone when you think about it. (Remember that godawful trench that carried the conduit and other utilities?) John could even bring in some utility lighting to plug in and do interior stuff in the evenings, if he needed to. (Actually, the house is quite dim on cloudy days right now since it's basically all closed in). His shop is especially dark since there are no windows in there, except for a small one in the door. So, dealing with the PUD, manually changing over the wiring to the new box and making sure there is power to BOTH the house and the trailer, and then having to backfill the trench that the boys had done a few weeks ago (from the power pole to the transformer) took a lot of time Friday. John figures there are probably 3 or 4 more days left before the roof is complete (based on him going down in the afternoon and working on it with the boys again next week).
He's gonna keep those boys for a lot of the interior work that's coming up – tiling, painting, flooring (aside from carpeting, which we'll have carpet installers do—only in the bedrooms). There are a whole lot more elephants to eat after the roof is done, and John will be doing most of it! It'll get especially nuts for him once the insulation and sheetrock guys are out of there.
Blows my mind that it's already past mid-August. (As an aside, this has been the most amazing, sunny, mostly dry, warm-but-not-beastly summer that we've had since the dawning of time). However, I'm sure John would view it differently from up there on that hot metal roof… Thing is, the alternative would've been rain—no inbetween—and that would have been worse because of the danger, and it would have taken even longer to eat that elephant.
~~~~~
Yesterday at work was strange because Seattle's Hempfest festival began, which is at the waterfront park directly across the street from our office. PLUS, the main access to the park is the pedestrian bridge that runs right alongside our office building, so it was a people-watching day! Tie-dye, dredlocks, tats, body piercings, huge ancient Army-issue backpacks, Pit Bulls on leashes, rainbow-color hair – you name it. Quite the parade!
Case in point: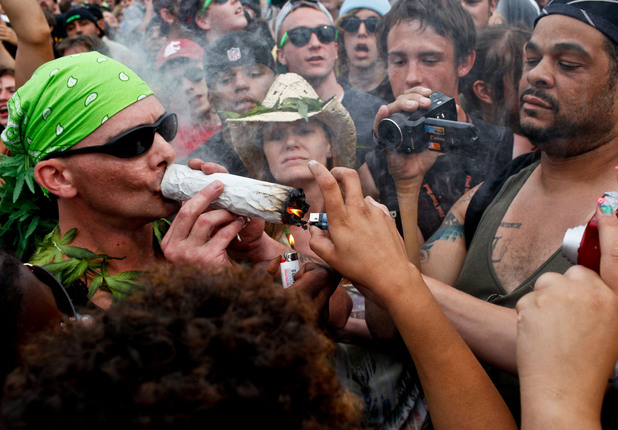 It's a hella big deal:
And now that pot is legal in Washington, I got a kick out of how the Seattle police handled the festival (they've always turned their eyes away from the pot-smoking, mostly because pot-smokers tend to be a laid-back crowd). But this year they handed out little bags of Doritos! With this sticker on them!
Snort!