Well, actually birthdays. Lots of them. Mine, Nate's, John's. (Used to be my dad's, too). I've often joked that in June, I pass the hat around. Because also graduations, Father's Day, weddings…
On my birthday (the 1st), John told me that my present would be late because it was coming from POLAND, which was fine and INTRIGUING. And then Nate mentioned that they were sending a "joint" gift for John and me, and it would arrive around the 10th. OK, cool!
So on the 10th, they both arrived! Nate and Sandra gave us a Bluetooth turntable! I'd considered getting one over the past few years, but just couldn't fully justify it. I am really excited about this! Between John and I, we have a pretty considerable and eclectic collection of vinyl, mostly dating back to the 1970s. I couldn't connect the Bluetooth to the Echo for some reason, but the ol' Bose speaker I've had in the glass studio connected in a heartbeat. I ran up to the garage and found the bin that stores all of our old albums and I grabbed a handful armload. (With some mortification of what the condition those albums might likely be with extreme temperatures over the last few years, plus scratches). So far, I've only listened to one album, but it sounded GREAT! It was the Buckingham Nicks album from before they joined Fleetwood Mac, and it's a wonderful record. I was amazed at how well it sounded through the Bose speaker.
Squee!!! I'm so excited!
John had to do some "assembly" of my gift before he let me see it, which meant he had to frame these paintings!
They are watercolors, done by an artist in Poland! (Click to embiggen). They are beautiful (and of course the colors are so me) and we're going to hang them in our master bathroom. We have HUGE walls in there, and I can't wait to see them up! Aren't they LOVELY??!! What is interesting (and bewildering!) is that he received several more paintings than what he'd ordered! They aren't framed yet, but we may hang a couple of them in the guest bathroom. I've also just this week made a glass artsy thing[s] that I think I'll eventually hang behind the toilet in there. The plan is to mount them on brushed aluminum (or stainless steel) panels, like this: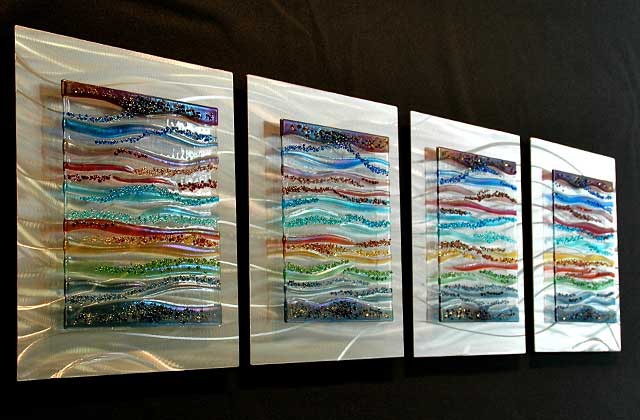 These are the two ditties I made:
I need to determine the size of the aluminum panels I need, and then order them plus the stand-0ffs. The main supplier is out of stock, so I'm looking for alternatives.
And then, I also made this!
Probably won't fire up the kiln this week because it's been in the 90s!!! So grateful for A/C! Whew.